Consisted of steel posts and barb wire went in at Rock Hills Ranch in 1985. After stringing what probably amounts to several thousand miles of fence over the years Luke Perman shared what's working for him in 2022. With the cattle split into four herds and two bands of custom grazed sheep multiple fences go up and come down every week.
Permanent perimeter fences continue to use more traditional barbed wire and heavy posts, but electric fence is what makes the grazing plan work. Cattle and sheep can be trained to respect electricity. Electric wire and fiberglass posts make up the biggest share of the ranch's fencing supplies.

Fiberglass is inexpensive, light weight and doesn't short out as often as steel posts. Corner posts are 1-1.25" fiberglass rod. For line posts the most economical option is 3/8" UV coated fiberglass rods with harp or spring clips. These can be placed in the ground prior to freeze up to be used for winter grazing for the cattle. Holes for the posts can be predrilled with a cordless drill to help section off cornfields if the ground is hard or slightly frozen. These are also durable as some have been used for 15 years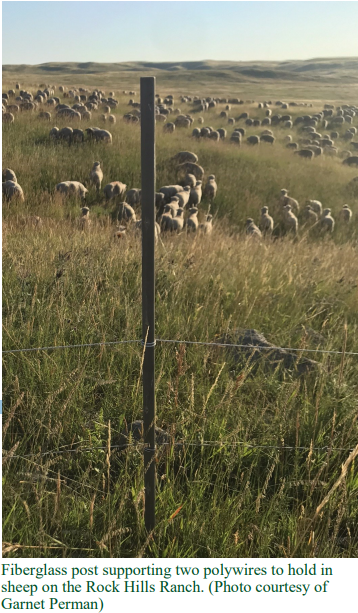 O'Brian Treadaline or Strainrite Multiwire Step Ins from Premier One Supplies
More costly but easier to install than the cheaper fiberglass rods and handle multiple wires well. The skinnier the spike end the easier to step in. Wire height can also be adjusted for smaller animals. These are used primarily for holding sheep. Alfred Hinostroza, one of the Peruvians that manage the sheep bands estimates it takes ½ to 1 hour for two people to set up a two wire, 1-2 acre pen depending on the terrain. He and his brother, James, take down and set up new pens every day. Perman has used these in heavy snow for cattle with a hot top wire and second ground wire.

Electric netting is used for the pen surrounding the water source where the sheep spend 4-5 hours a day. The Permans thought netting was the best electric option when they first started custom grazing until informed otherwise by a Peruvian with electric fence experience. Netting has good holding capacity and can stay in place for a couple of weeks.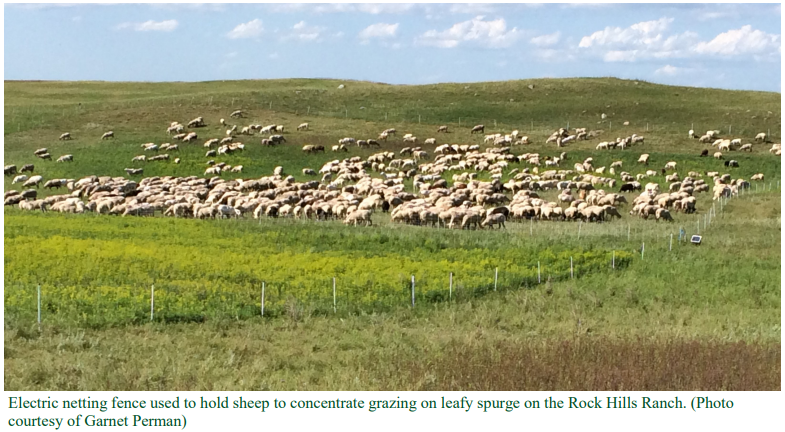 Gallagher ring-top or pigtail posts
Simple to install and take down but are made for only one wire, which makes them suitable for cattle but not sheep. They can also be fairly expensive. Braided polywire, such as Premier One Intellibraid or Powerflex PolyBraid is well worth the extra money vs regular polywire that is twisted rather than braided. Perman finds it to be much stronger and have better visibility which helps animals respect it better.


Knots matter!
Use a clove hitch to tie off the polywire on the corner fiberglass posts. On the braided polywire it's important to use a fisherman's knot when joining two wires, to maintain strength and conductivity of the metal filaments. Diagrams of both knots can be found on the Internet.
Other fencing supplies include:
An EZ Reel XL from Premier One can be rolled up with a cordless drill (with the appropriate attachment) and holds 1/2 mile of polybraid. Some people prefer a geared hand-crank reel for shorter distances, but that's labor intense for 1/2 mile of fence so we use the EZ Reels mostly.

Solar-powered 0.15 to 0.5 joule energizers work well for well-trained cattle on 1/2 mile of temporary fence. If a lot of green forage touches the wire, a bigger energizer may be necessary. Perman likes Gallagher, Patriot, and Speedrite energizers. All seem to perform and are fairly durable.

Fence handles – Zammr handles can be hooked up to either conduct electricity if hooking onto another electric fence, or insulated if hooking on to a barbed wire fence.

A must-have accessory is a fence tester/fault finder. Perman prefers the Gallagher fault finder, keeping one in every vehicle/atv.

Garnet Perman is a freelance writer and ranches with her husband, Lyle, near Lowry, SD.


If you are interested in becoming a partner of the SD Grassland Coalition or would like to become an event sponsor, please contact us.

Source: SDGC Newsletter