Creates soil health which promotes plant growth. Increased soil health leads to greater drought tolerance. If you have historically season long grazed, the pastures will respond positively, over time, to rotational grazing. Plant populations and plant vigor will increase due to healthier soil. Water will infiltrate better during a rain event.
Rotational grazing and Nature
Nature wants grass plants to be grazed then allowed to rest and re-grow. This promotes root health and soil health. Where we start working against this process is when cattle are left in the pasture long enough to bite the regrowth again and again. This is over-grazing which changes a healthy pasture into an overgrazed, low diversity, poor soil health pasture, that will respond poorly to drought and heavy rain events.
Well managed rotational grazing will allow you to eventually produce more forage during a drought when destocking is typically done. As the drought ends plants will respond to rain quicker under rotational grazing than season long grazing.
The time between implementing rotational grazing and being more drought resilient will vary from ranch to ranch. To start observing improvement it may take two years on one ranch and 4 the next. As time goes on, the soil will improve and become more drought resilient.
Here are a few basic steps to help prepare for dry conditions:
Attending a grazing school this summer is a good way to learn how to change management from season long grazing to rotational grazing and make your pastures more drought resistant. The Grassland Coalition Grazing Schools are also very helpful for people who are already rotating pastures and want to become more management intensive.
Following is the schedule for Coalition Grazing Schools this summer:
Wall
June 21-23
Watertown
July 26-28
Chamberlain
September 13-15
More info on registering for schools and pasture walks at: www.sdgrass.org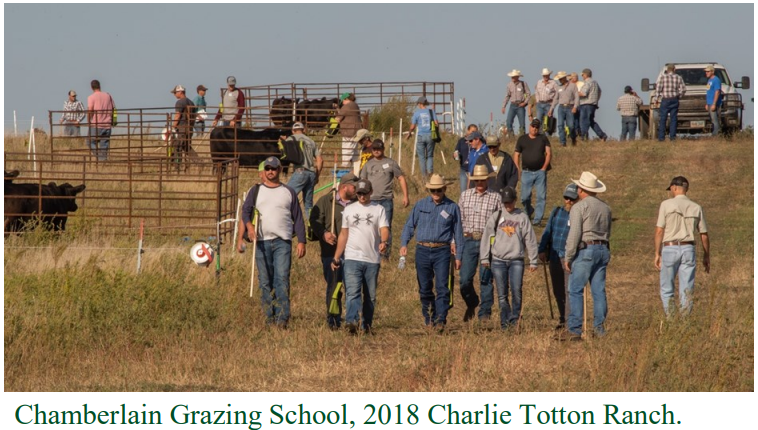 Dan is a third-generation cattle rancher living in south central South Dakota. Dan served on the board of the Grassland Coalition for 18 years and is currently the education coordinator and manages the Grazing School Follow-Up Consulting for the Coalition.
More Drought Planning techniques here.

Source: SDGC Newsletter