The current drought of 2021-2022 is in progress
Most ranches have started implementing their drought plans by selling off less desirable classes of cattle. Based on NOAA`s monthly long range forecasts, we are to expect above normal heat and below normal moisture April through August.Most stock dams in western South Dakota are dry or very low. For the cattle that remain on the pastures water is a big problem.

Generally speaking, one of the quickest ways to improve rangeland is to combine herds and move fast enough to leave adequate forage for soil health. Combining herds provides longer rest periods for the plants. This is essential for soil health especially in western South Dakota.

For this to be successful, often a water system is needed that can handle larger herds than has been normal for the ranch. Large water storage tanks are a good way to start solving this problem. The well fills the storage tank during the night so there is a supply of water for the cattle during the heat of the day.
Below are two examples for water storage: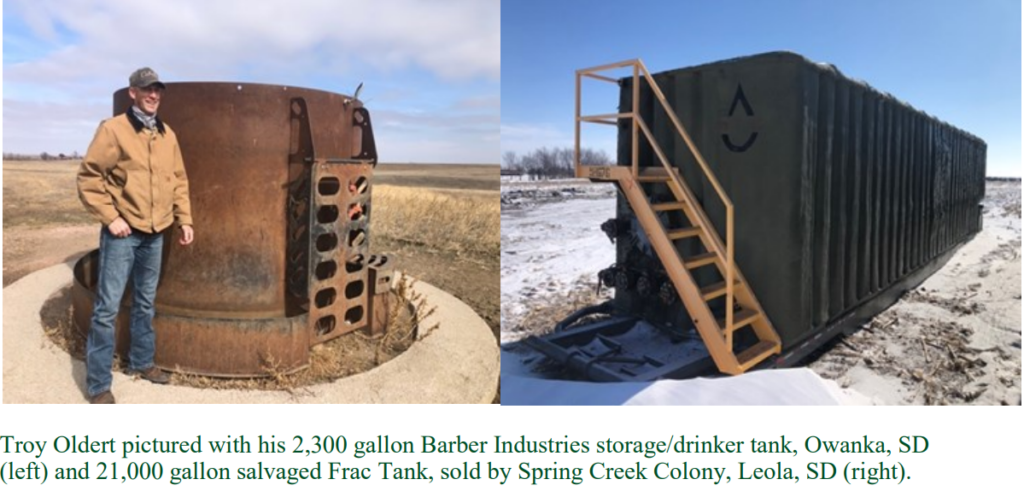 Designing a livestock water system to adapt to today's dry conditions will be a challenge to ranchers throughout the drought. For more info on designing livestock water systems contact Judge Jessop, Grassland Coalition Coordinator, at 605 280-0127.
Dan is a third-generation cattle rancher living in south central South Dakota. Dan served on the board of the Grassland Coalition for 18 years and is currently the education coordinator and manages the Grazing School Follow-Up Consulting for the Coalition.

More details at Drought Planning Videos.
Source: SDGC Newsletter